I don't believe I have mentioned it on here before, but we are in the process of building a new home! It is so exciting to see everything come together and we are thrilled. Our first home was a very cozy (read: itty-bitty) townhouse in a town and neighborhood that we loved. Until we had Delaney, it was perfect for us but, as everyone knows, with kids comes STUFF and we quickly outgrew the space. In the new house, the first room I care about having completely done is Delaney's. This has been a crazy year for us all between listing the house and keeping it spotless throughout that process, then moving out of that house and in with my parents until the new one is finished. I want her to feel instantly at home and happy in her new space, so it's my top priority.
Dorothy Draper is my absolute hero when it comes to interior design. Her philosophy was simple, though her designs were anything but. "Do what feels right," basically, is what she recommended and it's that kind of confidence and self-assurance that many designers (especially those who have no formal training, like myself) need to trust themselves. It also just so happens that her love of color and pattern is perfect for a little girl's room, if you ask me, so she was my obvious inspiration for Delaney's big girl room!
I did some Pinterest searching and all of the images that really spoke to me had three things in common: Crazy bright colors, patterned upholstered headboards, and crisp white bedding. Take a look at the board I have going here. Once I established that those were the anchors for my design, I was able to work from there. Here are the images that inspired me the most: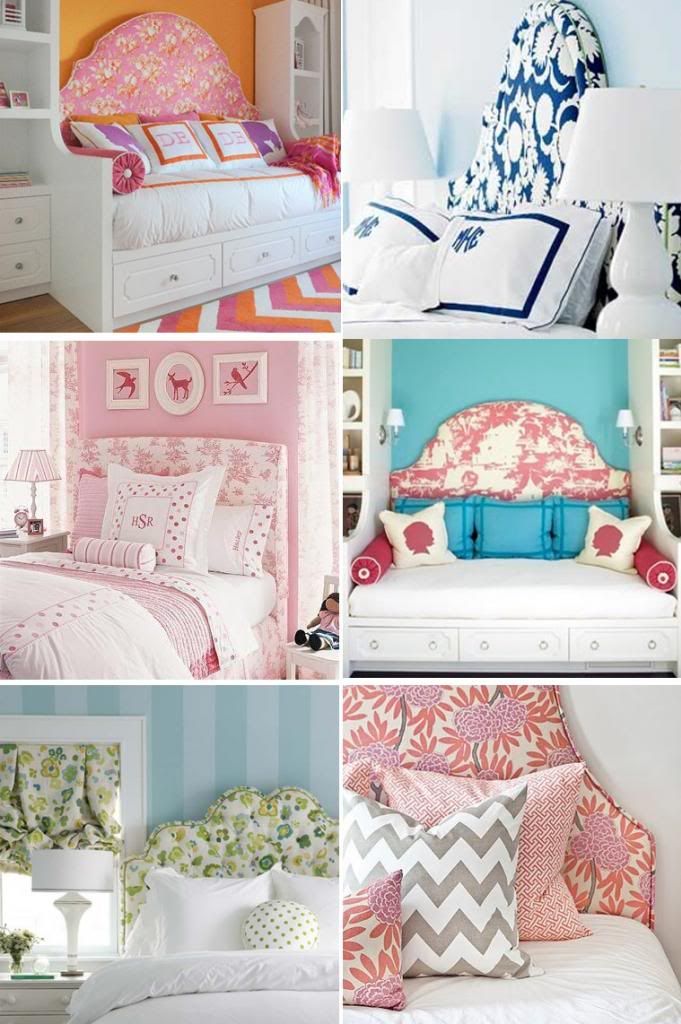 My vision was becoming clear, and once I decided on the fabric for the headboard (which will obviously be the focal point of the room,) everything else fell into place pretty easily! Delaney's one and only request from the beginning has been a purple room. She is adamant about this, and so it shall be. I chose a really light and soft lavander for the walls. I noticed that most of my inspiration photos did not have a ton of the wall color in the upholstery, so I looked for a fabric that had just a tiny hint of purple. I pulled the rest of the colors for the decor from that fabric, and came up with a mock-up. Delaney approved it and the ball is officially in motion!  Here is what I came up with:
In addition to the Pinterest board, I will share sources as the room comes together and everything is actually purchased, as well as tips, DIY projects, and before and after photos that will come in follow-up posts! I cannot wait to see how it all comes together- and to share the process with all of you!
I think Ms. Draper would approve, don't you? Who is your favorite design icon? Join the conversation on Twitter and don't forget to follow Camp Makery and myself on Pinterest for great inspiration photos to get you started on your own interior decor projects!